Effective February 1, 2023, CTN becomes mandatory
Somalia is a country located in the Horn of Africa, bordered by Ethiopia to the west, Djibouti to the northwest, and Kenya to the southwest. It has a population of around 15 million people. The official language is Somali and the capital and largest city is Mogadishu. The country has a diverse population with a mix of ethnic groups including Somali, Bantu, and Arab.
The Somali Ministry of Ports and Maritime Transport has decided to apply the CTN (Cargo Tracking Note) procedure for shipments to or from Somali ports. It is mandatory from February 1, 2023.
CTN is short for Cargo Tracking Note also known as a ECTN or BESC. It is a name that explains its purpose very well. Because it is a certificate that allows the authorities to track, manage, and supervise the cargos from loading to discharge. It also helps them to gain information about the shipments before they even arrive at the destination. It contains information about the exporter, the importer, information about the goods getting transported and their value, the cost of the freight, the type of shipment, the name of the vessel, etc.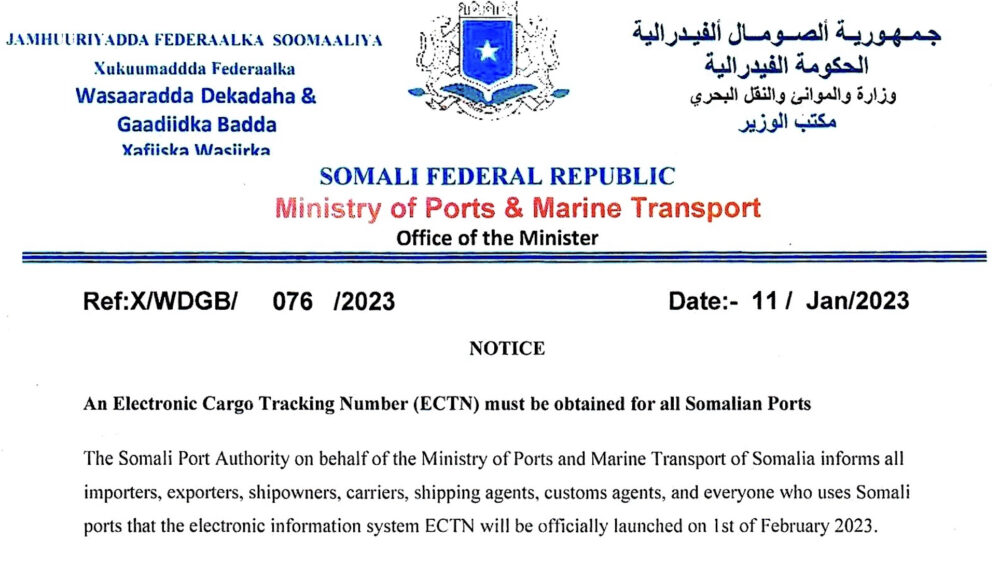 How can you get a CTN Certificate?
The below documents are mandatory for the Somalia CTN certificate:
Bill of Lading – B/L dated with CTN number
Commercial Invoice (indicating Incoterm, HS Code, Country of Origin, Currency, Breakdown of values in EUR/USD, Gross Weight in Tons)
Sea Freight invoice if commercial invoice is FOB or – EXW
Custom declaration – EXA
Packing List
Do you need a trustable freight forwarder in Italy? Contact us for your international shipment from Italy to Africa!